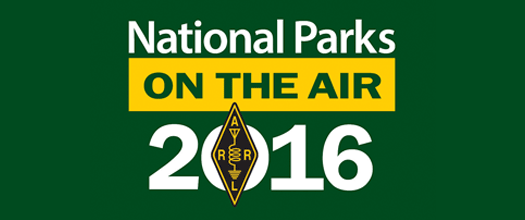 Get a Great Photo and Win!
Beginning with the March 2016 issue of QST, ARRL will run a monthly National Parks on the Air photo contest! Winning photos should include both a stunning scene from NPOTA units and portable ham radio in action during an NPOTA activation.

Submit photos to npota@arrl.org
ARRL NPOTA Photo Contest Rules:
1) All photos must be in .jpg or .tif format, with a file size no lower than 700k.
2) All submitted photos should be accompanied by an e-mail that includes the following information:
Names and call signs of all persons in the photo
Name of the NPOTA unit where the photo was taken
Name and call sign of the photographer
Information about your activation, such as equipment used, number of QSOs made, and other details of your adventure
2) Entrants are limited to one photo submission per month.

3) Submitted photos will only be considered for the current month's contest.
4) A person or group may win only once.
6) Photos should not have a time/date stamp or any embedded text.
7) If the photo depicts minors, a photo release from the minor's parent or guardian must be included with the submission. There are no exceptions. Submitted photos depicting minors that do not have an accompanying photo release will not be considered.
8) By submitting images to the ARRL National Parks on the Air Photo Contest, you are granting the American Radio Relay League (ARRL) the non-exclusive right to use the images in any and all of its publications, whether for promotional or non-commercial purposes, including electronic media or any other media yet to be invented, without payment or any other consideration.
9) Monthly winners will have their photo published in QST's monthly National Parks on the Air column and win official NPOTA gear.

Submission Deadlines:
March 2016 QST           January 15
April 2016 QST              February 15
May 2016 QST              March 15
June 2016 QST             April 15
July 2016 QST               May 15
August 2016 QST         June 15
September 2016 QST   July 15
October 2016 QST        August 15
November 2016 QST    September 15
December 2016 QST    October 15
January 2017 QST        November 15
February 2017 QST      December 15
March 2017 QST          January 15, 2017