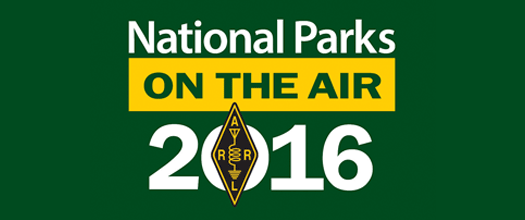 Welcome NPS Staff and Volunteers!
Click here to read the latest NPOTA News for NPS staff and volunteers
List of NPS units with NPOTA activity during NPS Centennial Week & Founder's Day.
---
Dear NPS Representative:
In parallel with the National Park Service's Centennial in 2016, ARRL, the National Association for Amateur Radio (sometimes called ham radio) has organized a year-long event, National Parks on the Air (NPOTA), to help NPS celebrate its Centennial. Amateur Radio operators will be drawing worldwide attention to all NPS units by bringing in portable radio gear and making two-way radio contacts, without the need for traditional communications infrastructure, such as the internet or cell phones. This activity provides the public with a real-time "virtual visit" to NPS units in a way no other group can offer.
View real-time statistics on how many two-way ham radio radio contacts ("QSOs") have been made this year from each NPOTA unit.
Amateur Radio operators are very excited about celebrating the NPS Centennial. Much like National Parks, the airwaves are a natural resource shared by all. We look forward to using our "national park" to help NPS bring awareness to theirs in 2016.
We hope this page will answer your questions about ham radio and the ARRL National Parks on the Air event.
What is Amateur Radio?
Amateur Radio is a hobby and public service where people set up and use two-way communications equipment. Over 750,000 Amateur Radio operators are licensed by the Federal Communications Commission, and are trained in communications techniques and basic electronics theory. It is fun, scientific, and educational.

Amateur Radio has offered worldwide public service during times of need for the past century, and is recognized by FEMA and the American Red Cross as a critical communications network during natural disasters and other emergencies. ARRL has Memorandums of Agreement with both organizations.
Temporary, portable operations are one of the ways in which ham radio operators train and prepare for such emergencies, and combine their recreational enjoyment of Amateur Radio with the great outdoors.
To learn more about ham radio, click here.
How will NPOTA impact your NPS Unit?
Minimally, if at all. Responsible ham radio operators have been bringing equipment to NPS units for many years, with no adverse impact on the units or other visitors.  During the NPS Centennial, it is likely these ongoing activities will be more frequent. 
Most ham radio operations are small and unobtrusive; many hams can carry all the equipment they need in a backpack, or have a self-contained station in their vehicle, and their equipment requires no permanent installation of any kind. "Leave nothing but footprints" is well understood by radio amateurs who enjoy portable operating. 
Most hams will likely be interested in a "day trip," or just a few hours of activity at most. Some will wish to stay longer, if camping is permitted at your unit.
We are confident that the majority of these temporary setups will be small enough that they can set up in a corner of your NPS unit and have no impact on other visitors.
Some Amateur Radio groups may wish to have a larger display of Amateur Radio's capabilities and interact with the public; we have instructed such groups to pursue a Special Use Permit with the NPS unit in question.
What information is ARRL giving to ham radio operators about NPS?
ARRL has written a National Parks on the Air Activator's Guide, which emphasizes following NPS rules and policies when setting up temporary stations in NPS units.
We stress safety and personal responsibility, not disrupting the enjoyment of others, cooperating with NPS staff, and respecting NPS authority over the unit.
ARRL has a web page promoting the event at www.arrl.org/npota.
Who can you contact with questions?
ARRL Contacts:
Web:www.arrl.org/NPOTA
E-mail: NPOTA@arrl.org
Phone: 860-594-0200 M-F 8a-5p Eastern Time. Explain that you are an NPS employee at a park, and you have questions about National Parks on the Air.
Questions regarding NPS rules and regulations should be directed to your regional office.
What is ARRL?
Founded in 1914, the American Radio Relay League is the national association for Amateur Radio in the US. ARRL is the largest organization of radio amateurs in the United States and the primary source of information about what is going on in the ham radio world. ARRL offers books, news, support, information, special operating events, continuing education classes, and other benefits for its members.
---
NPOTA Newsletters for NPS Staff and Volunteers (PDF):
---
List of NPS Units with a National Parks on the Air presence during NPS Centennial Week and Founder's Day:
The following NPS units will have Amateur Radio as part of their local events the week of August 22-28, the week of the NPS Centennial. If you would like to have Amateur Radio give your NPS unit more visibility during your Centennial celebrations, contact Sean Kutzko. KX9X
Abraham Lincoln Birthplace National Historical Park - Kentucky (HP01)
Agate Fossil Beds National Monument - Nebraska (MN02)
Allegheny Portage Railroad National Historic Site - Pennsylvania (NS01)
Assateague Island National Seashore - Maryland (SS01)
Big Hole National Battlefield - Montana (BF02)
Bluestone National Scenic River, WV (WR02)
Cabrillo National Monument - California (MN09)
Captain John Smith Chesapeake National Historic Trail - Delaware (TR21)
Charles Young Buffalo Soldiers National Monument - Ohio (MN18)
Chickasaw National Recreation Area - Oklahoma (RC05)
Cape Canaveral National Seashore - Florida (SS02)
Cape Cod National Seashore - Massachusetts (SS03)
Cuyahoga Valley National Park - Ohio (NP14)
Dayton Aviation Heritage National Historical Park- Ohio (HP11)
Devil's Postpile National Monument - California (MN22)
Effigy Mounds National Monument - Iowa (MN25)
Ebey's Landing National Historical Reserve - Washington (RS02)
El Camino Real de los Tejas National Historic Trail - Texas (TR20)
Fallen Timbers Battlefield & Fort Miamis National Historic Site - Ohio (AA06)
Flight 93 National Memorial - Pennsylvania (NM07)

Fort Larned National Historic Site - Kansas (NS21)
Fort Necessity National Battlefield - Pennsylvania (BF05)
Fort Point National Historic Site - California (NS22)
Fort Pulaski National Monument - Georgia (MN33)
Fort Union Trading Post National Historic Site - North Dakota (NS26)
Fort Vancouver National Historic Site - Washington (NS27)
Fossill Butte National Monument - Wyoming (MN37)
Friendship Hill National Historic Site - Pennsylvania (NS30)
Golden Gate National Recreation Area - California (RC11)
Governor's Island National Monument - New York (MN41)
Great Smoky Mountains National Park - North Carolina (NP26)
Grant-Kohrs Ranch National Historic Site - Montana (NS32)
Guilford Courthouse National Military Park - North Carolina (MP04)
Harriet Tubman Underground Railroad Nat'l Historical Park - Maryland (MN44)
Hawaii Volcanoes National Park - Hawaii (NP29)
Home of Franklin D. Roosevelt Nat'l Historic Site - New York (NS36)
Hopewell Culture National Historical Park - Ohio (HP15)
Hot Springs National Park - Arkansas (NP30)
Ice Age National Scenic Trail - Wisconsin (TR05)
Ice Age National Scientific Reserve - Wisconsin (AA11)
Isle Royale National Park - Michigan (NP31)
James A. Garfield National Historic Site - Ohio (NS39)
Jean Lafite National Historical Park & Preserve - Louisiana (HP17)
John Muir National Historic Site - California (NS42)
John Day Fossil Beds - Oregon (MN49)
Johnstown Flood National Memorial - Pennsylvania (NM14)

Juan Bautista de Anza National Historic Trail - Califronia (TR12)
Kate Mullany National Historic Site - New York (AA15)
Keweenaw National Historical Park - Michigan (HP20)
Lassen Volcanic National Park - California (NP38)
Lewis and Clark National Historic Trail - North Dakota/Oregon (TR09)
Little Rock Central High School National Historic Site - Arkansas (NS45)
Marsh-Billings-Rockefeller National Historic Site - Vermont (HP26)

Mesa Verde National Park - Colorado (NP40)
Mississippi National River & Recreation Area - Minnesota (RV04)
Mormon Pioneer National Historic Trail - Wyoming (TR08)
Nicodemus National Historic Site - Kansas (NS54)
Niobrara National Wild and Scenic River - Nebraska (WR06)
North County National Scenic Trail - Michigan/Ohio/New York (TR04)
Paterson Great Falls National Historical Park - New Jersey (HP34)
Pecos National Historical Park - New Mexico (HP35)
Point Reyes National Seashore - California (SS10)
Pony Express National Historic Trail - Wyoming (TR15)
President's Park (White House) - Washington DC (DZ10)
Rosie the Riveter National Historical Park (Red Oak Victory ship) California (HP37)
Russell Cave National Monument - Alabama (MN64)
Saint-Gaudens National Historic Site - New Hampshire (NS60)
Salt River Bay National Historical Park - US Virgin Islands (HP38)
San Francisco Maritime National Historical Park - California (HP40)
Santa Fe National Historic Trail - Kansas (TR11)
Shenandoah National Park - Virginia (NP51)
Theodore Roosevent Inaugural National Historic Site - New York (NS69)
Theodore Roosevelt National Park - North Dakota (NP52)
Thomas Stone National Historic Site (NS70)
Timucuan Ecological and Historic Preserve - Florida (PV16)
Tonto National Monumnet - Arizona (MN70)
Tumacacori National Historical Park - Arizona (HP45)
Ulysses S Grant National Historic Site - Missouri (NS73)
Valles Caldera National Preserve - New Mexico (PV19)
Waco Mammoth National Monument - Texas (MN81)
Walnut Canyon National Monument - Arizona ( MN76)
Wupatki National Monument - Arizona (MN73)