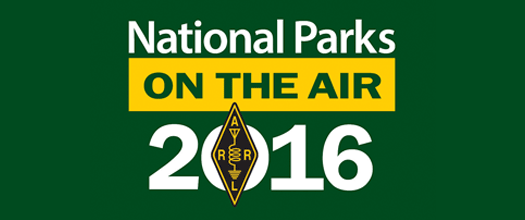 "Two-fers"
On occasion, one NPOTA unit will intersect with another. For example, the Appalachian National Scenic Trail (TR01) runs through portions of Shenandoah National Park (NP51). With some precision and attention, it's possible to hand out more than one NPOTA unit simultaneously with a single QSO. When two or more NPOTA units intersect, it's known as a "two-fer."
Here is a list of known "two-fers," "three-fers" and more.
This is the final list of multiple units.  The deadline for submitting possible multiple unit locations was March 6, 2016.  We are no longer accepting suggestions for multiple units.
If you operate from a loctaion that is not on this list you must pick one unit as your operating position.  Please, do not upload a log more than once or change times in your submitted log to capture more than one unit.
Last updated August 31, 2016
Unit combination
NPOTA Designators
State

 

Notes
Alagnak River + Katmai National Park
NP33,WR01
AK
 
Aniakchak NPV + Aniakchak National Monument
PV01,MN04
AK
 
Blue Ridge Parkway + Great Smoky Mountains NP
PK01,NP26
NC
 
Denali NP + Denali PV
NP16,PV06
AK
 
Gates of the Arctic NP + Gates of the Arctic PV
NP19,PV07
AK
 
Gates of the Arctic NP + Noatak PV
NP19,PV14
AK
 
Glacier Bay NP + Glacier Bay PV
NP20,PV08
AK
 
Great Sand Dunes NP and Great Sand Dunes National Preserve

 

NP25,PV09
CO
 
Golden Gate NRA + Muir Woods NM
RC11,MN53
CA
 
John D. Rockefeller Parkway + Grand Teton NP
PK03,NP23
WY
 
Jamestown + Colonial NHP
AA14,HP09
VA
 
Katmai NP + Katmai PV
NP33,PV10
AK
 
Lake Chelan + North Cascades NP
RC12,NP43
WA
 
Lake Clark NP + Lake Clark PV
NP37,PV11
AK
 
New Jersey Coastal Heritage Trail Route + Great Egg Harbor National Scenic River
AA17,WR04
NJ
 
New Jersey Coastal Heritage Trail Route + Maurice National Scenic River
AA17,WR24
NJ
 
New Jersey Coastal Heritage Trail Route + Pinelands National Reserve
AA17,AA19
NJ
 
New Jersey Coastal Heritage Trail Route + Pinelands National Reserve + Great Egg Harbor National Scenic River
AA17,AA19,WR04
NJ
 
Nez Perce NHP + Big Hole BF 
HP32,BF02
MT
 
Pinelands National Reserve + Great Egg Harbor National Scenic River
AA19,WR04
 
 
Rio Grande River + Big Bend NP
WR08,NP04
TX
 
Ross Lake + North Cascades NP
RC16,NP43
WA
 
Wrangell-St. Elias NP + Wrangell-St. Elias PV
NP56,PV17
AK
 
 
 
 
 
These National Mall units will automatically be scored as multiple units.
 
 
 
Constitution Gardens
DZ02,DZ06
DC
 
Franklin Delano Roosevelt Memorial
NM09,DZ06
DC
 
Korean War Veterans
NM13,DZ06
DC
 
Lincoln Memorial
NM16,DZ06
DC
 
Martin Luther King, Jr. National Memorial
NM18,DZ06
DC
 
Thomas Jefferson Memorial
NM25,DZ06
DC
 
Vietnam Veterans Memorial
NM26,DZ06
DC
 
Washington Monument
NM27,DZ06
DC
 
World War II Memorial
NM28,DZ06
DC
 
 
 
 
 
Rivers
 
 
 
Alatna Wild River + Gates of the Arctic National Park
WR11,NP19
AK
 
Alatna Wild River + Gates of the Arctic Preserve
WR11,PV07
AK
 
Aniakchak Wild River + Aniakchak National Monument
WR12,MN04
AK
 
Aniakchak Wild River + Aniakchak National Preserve
WR12,PV01
AK
 
Charley Wild River + Yukon-Charley Rivers National Preserve
WR13,PV18
AK
 
Chilikadrotna Wild River + Lake Clark National Preserve
WR14,PV11
AK
Not National Park segment, only Preserve
Flathead River + Glacier National Park
WR17,NP21
MT
Only portions of North and Middle Forks within Glacier NP qualify
John Wild River + Gates of the Arctic National Park
WR18,NP19
AK
Only part that is in Gate of the Arctic NP
Kern River + Sequoia National Park
WR19,NP50
CA
Only the part that is within Sequoia NP
Kings River + Kings Canyon National Park
WR20,NP35
CA
Only the part within Kings Canyon NP
Kobuk Wild River + Gates of the Arctic National Park
WR21,NP19
AK
 
Kobuk Wild River + Kobuk Valley National Park
WR21,NP36
AK
 
Kobuk Wild River + Gates of the Arctic Preserve
WR21,PV07
AK
 
Koyukuk Wild River (North Fork) + Gates of the Arctic National Park
WR22,NP19
AK
 
Merced River + Yosemite National Park
WR25,NP58
CA
Only the 81 miles within Yosemite National Park
Mulchanta River + Lake Clark National Park
WR27,NP37
AK
 
Mulchanta River + Lake Clark National Preserve
WR27,PV11
AK
 
Noatak River + Gates of the Arctic National Park
WR29,NP19
AK
 
Noatak River + Noatak National Preserve
WR29,PV14
AK
 
Salmon River + Kobuk Valley National Park
WR30,NP36
AK
 
Tinayguk Wild River + Gates of the Arctic National Park
WR33,NP19
AK
 
Tlikakila Wild River + Lake Clark National Park
WR34,NP37
AK
 
Tuolumne River + Yosemite National Park
WR35,NP58
CA
Only 54 miles within Yosemite National Park, except the Hetch Hechy Reservoir
Virgin Wild and Scenic River + Zion National Park
WR36,NP59
UT
Very tricky to determine NPS segments vs BLM segments; exercise great care.
 
 
 
 
Trails
 
 
 
Ala Kahakai NHT + Kaloko-Honokohau NHP
TR18,HP19
HI
 
Ala Kahakai NHT + Pu'uhonua o H?naunau NHP
TR18,HP36
HI
 
Ala Kahakai NHT + Hawai'i Volcanoes NP
TR18,NP29
HI
 
Ala Kahakai NHT + Puukohol? Heiau NHS
TR18,NS58
HI
 
 
 
 
 
Appalachian Trail + Delaware River
TR01,WR03
NJ, PA
 
Appalachian Trail + Delaware Water Gap
TR01,RC07
NJ, PA
 
Appalachian Trail + Great Smoky Mountains NP
TR01,NP26
TN
 
Appalachian Trail + Harpers Ferry HP
TR01,HP14
WV
 
Appalachian Trail + Shenandoah NP
TR01,NP51
VA
 
Appalachian Trail + Potomac Heritage NST + Chesapeake and Ohio Canal
TR01,TR03,HP08
 
 
Appalachian Trail + Overmountain Men Victory Trail
TR01,TR10
SC, TN
 
 
 
 
 
California NHT + Pony Express NHT
TR14,TR15
CA, KS, MO, NV, WY
 
California NHT + Oregon NHT + Pony Express NHT

 

TR07,TR14,TR15
KS, NE
 
California NHT+ Chimney Rock NHS
TR14,AA05
NE
 
California NHT + Scotts Bluff MN
TR14,MN66
NE
 
California NHT + Fort Laramie NHS
TR14,NS20
WY
 
California NHT+ Golden Gate NRA
TR14,RC11
CA
 
California NHT + City of Rocks NR
TR14,RS01
ID
 
California NHT + Lassen Volcanic NP
TR14,NP38
CA
 
 
 
 
 
 
 
 
 
Captain John Smith Chesapeake NHT + Piscataway Park
TR21,DZ07
MD
 
Captain John Smith Chesapeake NHT + Richmond NBP
TR21,BP03
VA
 
Captain John Smith Chesapeake NHT + Colonial NHP
TR21,HP09
VA
 
Captain John Smith Chesapeake NHT + Fort McHenry NM and Shrine
TR21,MN31
MD
 
Captain John Smith Chesapeake NHT + George Washington Birthplace
TR21,MN38
VA
 
Captain John Smith Chesapeake NHT + Star-Spangled Banner NHT
TR21,TR22
MD
 
Captain John Smith Chesapeake NHT + Star-Spangled Banner NHT + George Washington Memorial Parkway
TR21,TR22,PK02
VA
 
 
 
 
 
El Camino Real de Tierra Adentro NHT + Chamizal NM
TR17,NM03
TX
 
El Camino Real de los Tejas + San Antonio Missions NHP
TR20,HP39
TX
 
 
 
 
 
Fort Caroline National Memorial + Timucuan Ecological and Historic Preserve
NM08,PV16
 
 
 
 
 
 
Ice Age National Scenic Trail + Ice Age WR
TR05,AA11
WI
 
Saint Croix WR + Ice Age National Scientific Reserve
WR09,AA11
WI
 
Ice Age National Scenic Trail + Saint Croix WR
TR05,WR09
WI
 
Ice Age National Scenic Trail + Saint Croix WR + Ice Age National Scientific Reserve
TR05,WR09,AA11
WI
 
 
 
 
 
Juan Bautista de Anza NHT +

 

Tumacacori NHP
TR13,HP45
AZ
 
Juan Bautista de Anza NHT+ Golden Gate NRA
TR13,RC11
CA
 
Juan Bautista de Anza NHT + Santa Monica Mountains NRA
TR13,RC17
CA
 
Juan Bautista de Anza NHT + California NHT
TR13,TR14
CA
 
Juan Bautista de Anza NHT + Old Spanish NHT
TR13,TR19
CA
 
Juan Bautista de Anza National Historic Trail + John Muir National Historic Site
TR13,NS42
 
 
Juan Bautista de Anza National Historic Trail + Golden Gate NRA + Fort Point NHS
TR13,RC11,NS22
CA
 
 
 
 
 
Lewis and Clark NHT + Nez Perce National Historical Park
TR09,HP32
ID, OR, MT
 
Lewis and Clark + California NHT+ Pony Express NHT
TR09,TR14,TR15
KS, NE
 
Lewis and Clark NHT+ California NHT
TR09,TR14
KS, MO, NE
 
Lewis and Clark NHT+ Pony Express NHT
TR09,TR15
MO
 
Lewis and Clark NHT + Fort Union Trading Post NHS
TR09,NS26
MT, ND
 
Lewis and Clark NHT + Big Hole BF
TR09,BF02
MT
 
Lewis and Clark NHT + Knife River Indian Villages NHS
TR09,NS43
ND
 
Lewis and Clark NHT + Lewis and Clark NHP
TR09,HP23
OR, WA
 
Lewis and Clark National Historic Trail + Missouri National Recreational River
TR09,WR05
MT, ME
 
Lewis and Clark NHT + Nez Perce NHP + Big Hole BF
TR09,HP32,BF02
MT
 
 
 
 
 
Mormon Pioneer NHT+ Lewis and Clark NHT
TR08,TR09
IA, NE
 
Mormon Pioneer NHT + California NHT
TR08,TR14
NE, UT
 
Mormon Pioneer NHT + Pony Express NHT
TR08,TR15
UT
 
Mormon Pioneer NHT

 

+ California NHT + Pony Express NHT
TR08,TR14,TR15
UT, WY
 
 
 
 
 
North Country NST + Fort Stanwix MN
TR04,MN34
NY
 
North Country NST + Pictured Rocks LK
TR04,LK03
MI
 
North Country NST + Father Marquette AA
TR04,AA07
MI
 
North Country NST + Dayton Aviation Heritage NHP
TR04,HP11
OH
 
North Country NST + Saint Croix WR
TR04,WR09
WI
 
North Country NHT + Lewis and Clark NHT
TR04,TR09
ND
 
 
 
 
 
Old Spanish NHT + Colorado MN
TR19,MN20
CO
 
Old Spanish NHT + Arches NP
TR19,NP02
UT
 
Old Spanish NHT + Great Sand Dunes NP and Preserve

 

TR19,NP25
CO
 
Old Spanish NHT + Great Sand Dunes PV
TR19,PV09
CO
 
Old Spanish NHT + Mojave PV
TR19,PV13
CA
 
Old Spanish NHT + Curecanti NRA
TR19,RC06
CO
 
Old Spanish NHT + Lake Mead NRA
TR19,RC13
NV
 
 
 
 
 
Oregon NHT + California NHT
TR07,TR14
KS, ID, MO, WY

 

 
Oregon NHT + California NHT + Hagerman Fossil Beds NM
TR07,TR14,NM43
ID
 
Oregon NHT + Santa Fe NHT + California NHT
TR07,TR11,TR14
KS, MO, NE, WY

 

 
Oregon NHT + Mormon Pioneer NHT + California NHT + Pony Express NHT
TR07,TR08,TR14,TR15
NE, WY
 
Oregon NHT + Mormon Pioneer NHT + California NHT + Pony Express NHT + Chimney Rock NHS
TR07,TR08,TR14,TR15,AA05
NE
 
Oregon NHT + Mormon Pioneer NHT + California NHT + Pony Express NHT + Scotts Bluff MN
TR07,TR08,TR14,TR15,MN66
NE
 
Oregon NHT + Mormon Pioneer NHT + California NHT + Pony Express NHT + Fort Laramie NHS
TR07,TR08,TR14,TR15,NS20
WY
 
Oregon NHT + Lewis and Clark NHT
TR07,TR09
OR, MO
 
Oregon NHT + Lewis and Clark NHT + Fort Vancouver NHS
TR07,TR09,NS27
WA
 
 
 
 
 
Overmountain Victory NHT
TR10
NC, SC, TN, VA
 
Overmountain Victory NHT + Blue Ridge Parkway
TR10,PK01
NC
 
Overmountain Victory NHT + Kings Mountain MP
TR10,MP06
SC
 
Overmountain Victory NHT + Cowpens BF
TR10,BF03
SC
 
 
 
 
 
Pony Express NHT + Golden Gate NRA
TR15,RC11
CA
 
Pony Express NHT + Chimney Rock NHS
TR15,AA05
NE
 
Pony Express NHT + Scotts Bluff MN
TR15,MN66
NE
 
Pony Express NHT + Fort Laramie NHS
TR15,NS20
WY
 
 
 
 
 
Potomac Heritage NST + Prince William Forest Park
TR03,DZ08
VA
 
 
 
 
 
Santa Fe NHT + Bent's Old Fort NHS
TR11,NS04
CO
 
Santa Fe NHT + Fort Larned NHS
TR11,NS21
KS
 
Santa Fe NHT + Fort Union MN
TR11,MN36
NM
 
Santa Fe NHT + Pecos NHP
TR11,HP35
NM
 
Santa Fe NHT + California NHT
TR11,TR14
KS, MO
 
 
 
 
 
Trail of Tears NHT + Chickamauga and Chattanooga NMP
TR12,MP01
GA, TN
 
Trail of Tears NHT + Pea Ridge NMP
TR12,MP07
AR
 
Trail of Tears NHT + Fort Smith NHS
TR12,NS25
AR, OK
 
Trail of Tears NHT + Stones River BF
TR12,BF09
TN
 
Trail of Tears NHT + Arkansas Post NM
TR12,NM01
AR
 
Trail of Tears NHT + Little River Canyon PV
TR12,PV12
AL
 
 
 
 
 
Washington - Rochambeau Revolutionary Route NHT + Boston Harbor Islands NRA
TR23,RC03
MA
 
Washington - Rochambeau Revolutionary Route NHT + Morristown
TR23,HP28
NJ
 
Washington - Rochambeau Revolutionary Route NHT + Independence HP
TR23,HP16
PA
 
Washington - Rochambeau Revolutionary Route NHT + Star-Spangled Banner NHT
TR23,TR22
MD
 
Washington - Rochambeau Revolutionary Route NHT + Star-Spangled Banner NHT + Fort McHenry NM and Shrine
TR23,TR22,MN31
MD
 
Washington - Rochambeau Revolutionary Route NHT + Potomac Heritage NST
TR23,TR03
VA
 
Washington - Rochambeau Revolutionary Route NHT + George Washington Memorial Parkway
TR23,PK02
DC
 
Washington - Rochambeau Revolutionary Route NHT + New England NST
TR23,TR06
CT