NEW! Maxim Society QSL Cards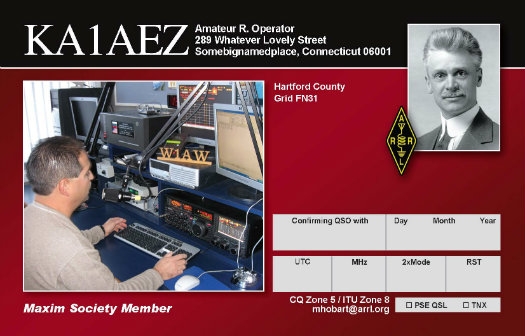 Request your own personalized Maxim Society QSL cards today. Go Now
The ARRL Maxim Society
ARRL is fortunate to recognize a group of  individuals whose extraordinary generosity continues to support the organization at leadership level. Over the life of each donor's relationship with Amateur
Radio and ARRL as expressed by their contributions to the Diamond Club, The Spectrum Defense Fund, The Education & Technology Fund (including the Teachers Institutes), The Historic Preservation Fund and other funds, these individual have accumulated lifetime giving of $10,000 or more.
Benefits
As part of The ARRL Maxim Society you are entitled to the following benefits:  
A custom designed Maxim Society pin
A personalized Maxim Society plaque (first year only)
A personalized burgundy Maxim Society badge
Two Maxim Society car window decals
A 10% publications discount on purchases direct from ARRL
Unlimited free use of DXCC, QSL Service and Awards
Complimentary Maxim Society QSL cards (See Below) 
Expedited delivery of QST
Invitations to the ARRL Donor Recognition Event
Voluntary annual listing in the ARRL Annual Report, in QST and on the ARRL Website.
Your Invitation to the ARRL Maxim Society
Based on your accumulated donations to ARRL you will be included in one of the following classes:
President Class

Lifetime Giving of $10,000 - $24,999




Ambassador Class

Lifetime Giving of $25,000 - $49,999

Benefactor Class

Lifetime Giving of $50,000 - $99,999

Founder Class

Lifetime Giving of $100,000 - $249,999

Fellow Class

Lifetime Giving of

 

$250,000 - $499,999

Century Class

Lifetime Giving of $500,000 - $999,999

Millennium Class

Lifetime Giving of $1,000,000 - $4,999,999




Visionary Class

Lifetime Giving of $5,000,000 or more
Questions about the Maxim Society? Please call the Development Office at 860-594-0291.

ARRL is an IRS-designated 501(c)(3) organization holding federal tax number is 06-6000004. Contributions to ARRL are tax deductible to the extent allowed by law.
Maxim Society QSL Cards
To get your own Maxim Society QSL cards, please complete the following form.
Diamond Club Members can also get NEW Diamond Club QSL Cards.